Watch Video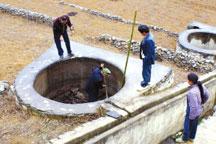 Play Video
The Anfeng Waterworks in east China's Nanping city provides local citizens with 70 percent of their water supply. But recently, the waterworks have come under threat from landslides.
The continuous rain has caused massive landslides in the area. Falling rocks and mud are now endangering the Anfeng Waterworks, the main water supply for Nanping city. Now part of the mountain is moving towards the waterworks with a speed of nearly half centimeter per hour and the slide now is only 2 meters' away.
The rescue team is working around the clock to halt the landslide.
Zhang Zhaomin, Vice Mayor of Nanping, said, "We are working hard to prevent the mountain from moving. This waterworks controls 70 percent of local citizens' water supply. We will use our life to protect the waterworks."
Luckily on Sunday afternoon, the rain that started nine days ago stopped. This provided the workers some time to protect the waterworks.
Lu Caijin, rescue team member, said, First, we cover the moving mountain with plastic cloth to prevent rain from increasing the mud's weight. Then we dig a lot of holes to help the mountain drain. Last, we will observe the mountain for 24 hours.
The local government has detailed emergency plans. They will use a back-up pool originally for sewage disposal to help the situation.
Lin Jingguang, Manager of Anfeng Waterworks, said, "The water condition in the back-up tank is okay, it is of the national standard."
Zhang said, "We also prepared fire-engines to store clean water, and the other waterworks of Nanping is working at full pace. If the landslide destroys this waterworks, we will adopt a even and odd-date method to provide water to citizens."
One official says after days of rescue work the speed of the moving mountain has decreased sharply. It has even stopped from moving forward. xxx,cctv.
Related stories
Editor:Zhang Jingya |Source: CCTV.com