Watch Video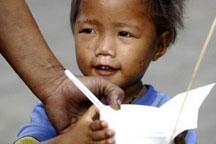 Play Video
The United Nations has released a report, which says efforts and gains in tackling poverty over the past years are being eroded by several current crises.
They include the unprecedented financial downturn, increased food insecurity, oil price volatility and climate change.
The report, entitled Trends and Progress in International Development Cooperation, was submitted by UN Secretary-General Ban Ki-moon to the high-level segment of the UN Economic and Social Council.
It says multiple crises are creating numerous obstacles for the achievement of the Millennium Development Goals, or MDGs, which were set out in 2000.
The MDGs are a set of eight anti-poverty targets that world leaders agreed to achieve by 2015.
The current global problems have driven more than 60 million people into poverty and more than 100 million into hunger, reducing the prospects of realizing the MDGs .
The report also warns that despite progress in some areas, many are not living up to expectations, especially those in sub-Saharan Africa and the least developed countries.
The economic crisis has sparked a 13 percent contraction in global trade. It was accompanied by low-intensity protectionist measures, and higher debt burdens in many countries.
Trade looks set to rebound in 2010, with trade amongst developing countries is rebounding sharply, and projected to advance. But persistent unemployment could intensify protectionist pressures.
Though the global economic crisis has slowed the fight against poverty, the developing world is still on track to meet a key UN goal of halving the number of people living on less than 1 US dollar a day by 2015.
Editor:Zhang Pengfei |Source: CCTV.com