Watch Video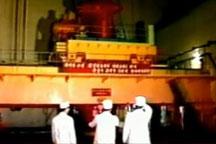 Play Video
The DPRK says it will strengthen its nuclear deterrent to cope with the hostile policy and military threat of the US. It also accuses the US and South Korea of accumulating heavy weapons along its border with South Korea.
A spokesman for the Ministry of Foreign Affairs says recently disclosed classified US documents show the United States planned to launch nuclear attacks on the DPRK in 1954 and 1969.
An April's "Nuclear Posture Review" released by the White House also excludes the DPRK from the list of countries against whom the US would not use or threaten to use nuclear weapons.
The DPRK's state-run television quoted the spokesman as saying this indicates that the US has never dropped the idea of using nuclear weapons against the DPRK.
KRT News Reader, said, "This recent disturbing development on the Korean Peninsula underscores the need for the DPRK to bolster its nuclear deterrent in a newly developed way to cope with the US's persistent hostile policy toward the DPRK and military threat towards it."
But how the DPRK plans to strengthen its nuclear deterrent has not been elaborated.
The US is criticizing the decision.
Barack Obama, US President, said, "The international community will continue to step up pressure until it makes a decision to follow a path that is consistent with international norms."
Meanwhile, the DPRK's military is accusing the US and South Korea of bringing heavy weapons to the village of Panmunjom, which lies along the heavily militarized border between the two countries. It says the movement is an indication that the two countries are set to perpetrate military provocation at any moment, and vows to take "strong military countermeasures" if they are not withdrawn.
The US military says it is checking the DPRK's statement.
South Korea says it could not confirm the DPRK's claim that weapons were brought into the region.
Kim Young-Sun, S. Korean Foreign Ministry Spokesman, said, "I think a little more analysis is necessary."
According to the Armistice Agreement that ended the 1950-1953 Korean War, the forces on both sides in the area around the Panmunjom Conference Hall can only carry small arms, such as pistols and rifles. Heavy weapons are banned in the area.
Related stories
Editor:Zhang Pengfei |Source: CCTV.com