Watch Video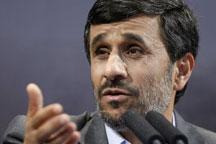 Play Video
Iranian President Mahmoud Ahmadinejad said on Monday that Iran will delay its return to the negotiating table over its nuclear programme.
He says talks will not resume until late August, a punishment for the West for imposing economic sanctions on Iran.
Ahmadinejad says Iran is ready to talk, but only "on the basis of the Tehran Declaration," a joint uranium swap programme between Iran, Turkey and Brazil.
Earlier this month, the UN Security Council adopted a resolution to impose a fourth round of sanctions against Iran over its nuclear program, suspected of being used for military purposes.
The delay in talks is the latest in a series of sharp reactions by Iranian officials to the sanctions.
Mahmoud Ahmadinejad, Iranian President, said, "The westerners issued a resolution against us to supposedly have the upper hand in the negotiations. We call it immorality. Because of this, we delay the negotiations. The talks will now be in the second half of Ramadan, in late August. It is a punishment, to teach them a lesson so they learn how to have dialogue with nations."
Editor:Zhang Pengfei |Source: CCTV.com