Watch Video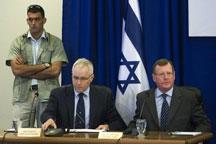 Play Video
An Israeli commission of inquiry into last month's deadly naval raid on a Gaza-bound flotilla, is to summon the country's prime minister to testify.
The chief investigator made the announcement on Monday, as the five-member panel officially began work. Meanwhile, Turkey has issued a ban on Israeli military flights, in response to Israel's blockade of the territory.
Alongside Prime Minister Benjamin Netanyahu, Israel's defense minister and military chief of staff will face the commission investigating the raid on the Gaza-bound aid flotilla.
The commission's head says the panel's main job, is to investigate whether Israel's actions leading up to the incident, which took place in international waters, "met the norms of international law."
He says public hearings would begin within weeks.
The incident on May 31st, left eight Turks and one Turkish-American dead.
Israel maintains a naval blockade on the coastal territory, which it sees as necessary to keep weapons out.
Turkey recalled its ambassador to Israel, following the incident.
On Monday Turkey's Prime Minister Recep Tayyip Erdogan announced that some Israeli military flights would no longer be allowed to enter Turkish airspace.
A Turkish government official said commercial flights would not be affected.
Israeli commandos intercepted the six-ship flotilla carrying pro-Palestinian activists and aid supplies to the Gaza Strip.
The activists insisted the Israeli soldiers opened fire first when they boarded the Turkish ship Mavi Marmara.
However, the Israeli military has provided footage of the incident, which shows commandos being attacked by the activists.
Related stories
Editor:Zhang Pengfei |Source: CCTV.com