Watch Video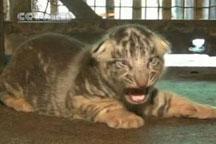 Play Video
A litter of white tiger cubs has been born at a major zoological park in India's southern Tamil Nadu state.
Two of the three cubs are female and the third a male. They are fed on their mother's milk and laze around all day on comfortable mattresses.
To maintain their safety, only an animal keeper is allowed to go near the enclosure.
The striped cubs have been placed in a protected room, to keep them away from direct sunlight and other external dangers. The white tiger enclosure in the zoo has become a star attraction for hundreds of visitors.
Giridhar, Visitor at the Zoo, said, "We are very happy to see the white tigers as they are rare to find. White tigers are not available in other zoos and it is very rare opportunity for the visitors to get information on them. We are thoroughly enjoying our visit, and more children and I am sure that more people would be coming to see the cubs."
Activists claim India's population of the animals is on the decline, through poaching and neglect.
Editor:Zhang Pengfei |Source: CCTV.com