Watch Video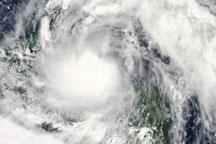 Play Video
BP says high waves from tropical storm Alex will delay its plan to add more oil-siphoning capacity to the leaking well in the Gulf of Mexico.
They are hoping to resume efforts next week, although the company says the current oil-capturing systems are not expected to be affected.
BP says it's on track to end the worst oil disaster in US history within the 3 month timeframe set.
One UK newspaper over the weekend suggested it could be as early as next month but BP have not given a specific date.
It says work on two relief wells are on track for completion sometime in August.
The oil spill in the Gulf of Mexico has led to tensions between Britain and America.
Following a two-day summit in Toronto at the weekend, President Obama met with British prime minister David Cameron to discuss the cost of the clean up.
Britain's finance minister George Osborne was at the meeting.
George Osborne, Britain's finance minister, said, "We understand, first of all, the very serious environmental impact of the oil spill in the Gulf. BP, of course, have an obligation to most immediately stop the oil from gushing out into the Gulf, but also to cleanup the environmental damage, and to pay legitimate compensation, however, we have stressed that rightly BP is also an important global business. It has many investors in the United States. It's the largest oil company in the United States, and it's in both the United States' interest, and in the UK's interest that BP has a strong future, and I think that is well understood."
BP has paid out more than 2 billion dollars in clean-up and compensation costs since the disaster hit on April 20 and seen more than $100 billion dollars lost in market value.
Editor:Zhang Pengfei |Source: CCTV.com