Watch Video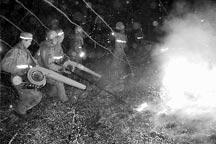 Play Video
Fires in a forested area in north China's Inner Mongolia Autonomous Region and Heilongjiang Province are continuing to burn. But officials of the Fire Control Headquarters of the Greater Hinggan Mountains say two major blazes are under control.
According to the Headquarters, as of Saturday afternoon a fire in the Inner Mongolia Autonomous Region had spread to Heilongjiang Province. It engulfed an area of 12 square kilometers.
Five more blazes, reported on Monday, were probably triggered by heat lightning.
Twenty-eight forest fires have been identified over the past four days in the region.
More than 9,000 people from both Heilongjiang and Inner Mongolia have been battling the fires.
They built fire-proof shelters and used aircraft to drop water on the blazes.
After 30 hours work, two fires had been brought under control. 800 forestry workers are still battling the fires in the northern part of the Greater Hinggan Mountains.
Since the middle of June, temperatures have reached record highs of 38 degrees Celsius. There has been no rain for more than 10 days.
The Greater Hinggan Mountains is a large timber producing base in China, and covers more than 80,000 square kilometers of mainly pine forests.
Related stories
Editor:Zhang Ning |Source: CCTV.com