Watch Video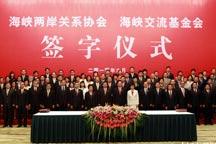 Play Video
Chinese mainland and Taiwan negotiators have signed a long-awaited Economic Cooperation Framework Agreement, known as ECFA. The two sides also signed an agreement on intellectual property rights protection.
It is a move hailed by many as a milestone in cross-Strait relations.
Negotiators from the mainland's Association for Relations Across the Taiwan Straits and the Taiwan-based Straits Exchange Foundation inked the ECFA during the fifth round of talks since the two organizations resumed negotiations after an 11-year suspension.
The deal, which covers trade and investment, provides a better platform for cooperation.
ARATS chairman Chen Yunlin said, "I believe the ECFA is an agreement out of equal consultations and mutual benefits, and also it is an agreement of understanding, conciliation and goodwill. It reaffirms both sides should try their best to eliminate the barriers of trade and investment."
Chiang Pin-Kung, SEF chairman said, "It is an urgent task to sign the economic cooperation framework agreement across the strait. The signing of the agreement is an outcome of mutual benefits and will benefit both sides. I think the two sides will have a better environment for trade within the framework."
Under the 16-article agreement, the two sides agree to gradually reduce and remove trade and investment barriers and create a fair environment in the two areas.
The agreement also provides protection for cross-Strait investments to boost two-way capital flows.
Under the agreement, the two sides will continue discussing agreements for commodity trade, service trade and investment for six months after the ECFA takes effect.
Chiang Pin-Kung, SEF chairman said, "As the signing of the ECFA is a gradual process and can't be settled in one step. We hope the two sides can continue the follow-up consultations in a timely manner, and in line with the needs of trade and economic cooperation between the two sides."
The mainland and Taiwan will also jointly set up a committee for cross-Strait economic cooperation to ensure other agreements can be reached and to supervise the implementation of the ECFA.
Editor:Zhang Ning |Source: CCTV.com