Watch Video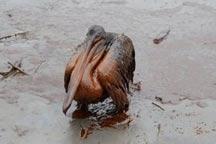 Play Video
US officials are calling for a "sense of urgency" in keeping the Gulf of Mexico oil spill at bay as the slick continues to soil Louisiana's shorelines, marshes and wetlands.
Millions of gallons of oil have spilled since the Deepwater Horizon rig exploded 80 kilometers off the coast of Louisiana on April the 20th, killing 11 workers.
Louisiana governor Bobby Jindal said, "We are in a war to protect our way of life down here. We need the federal government to have the same sense of urgency. Maybe in Washington they can't see the oil, they can't smell the oil, they can't touch the oil, they need to understand it's real, they need to understand it's toxic, they need to understand it's coming into our wetlands and our estuaries, we need to be doing everything we can to fight this oil 15 to 20 miles away from our coast, it's too late once it comes to our wetlands.
One of the latest efforts is a novel plan to block the crude's path with a flotilla of barges.
The barges, which were moved into the first of the passes last week, are being used to partially block five passes where water from the Gulf of Mexico flows between barrier islands into Barataria Bay.
The newest potential threat to the clean-up operation is the imminent arrival of Tropical Storm Alex.
Incident Commander Admiral Thad Allen said, "We think that the maximum impact of Alex passing by could produce seas of 10 to 12 feet sometime in the next 36 hours or so. The only impact that will have on ongoing operations will be a potential delay of the preparations for the Helix producer which will be the third production vessel that would take us to capacity of 53,000 barrels by the end of the month of June. That will obviously move to some time in July, and we're tracking that very closely right now."
In the waters of Plaquemines Parish in Louisiana, oysters and other sea creatures are dying, not directly because of the oil, but because of the volume of fresh water pumped into the sea as part of the clean-up operation.
Meanwhile, the US Fish and Wildlife Service has released more than 70 brown pelicans at the Aransas National Wildlife Refuge in Aransas, Texas.
Related stories
Editor:Zhang Ning |Source: CCTV.com