Watch Video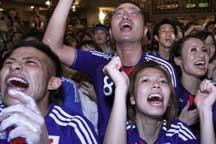 Play Video
Japanese TV makers are hoping to take advantage of this year's World Cup to introduce their latest high-tech advancements, and generate a major sales boom, as viewer ratings for games involving the national soccer team's games have been pulling in record high ratings.
Japanese are closely following their team's World Cup performance, while some of the nation's companies are eyeing a sales kick from the global event.
Viewing of the World Cup in South Africa is expected to rise 5 percent globally from 2006 levels, while firms such as Sony pay about $100 million to be World Cup "partners" and others up to $1 billion to be "sponsors."
Sony has begun sales of its Bravia 3D TVs during the World Cup, following rivals Panasonic, Samsung, and LG, believing the tournament will jump-start sales of the technology.
At Saitama Stadium on Saturday, thousands of fans watched the 1-0 loss to the Netherlands on a jumbo Sony LCD screen, earlier catching highlights in 3D of Japan's 1-0 win over Cameroon.
This couple says Japan's presence in the World Cup is an excuse to shop, particularly if the team advances.
Yukari Ito, Soccer Fan, said, "I want to do some shopping, and I'm going to spend about $120."
Kazuhiko Ito, Soccer Fan, said, "I'm interested in team uniforms. This shirt is the old edition."
Viewer ratings in Japan for the national team's first game hit 45 percent, while globally ESPN saw its best ever soccer household viewing for the USA-Slovenia match, numbers advertisers such as Sony hope will allow then to score big sales ahead.
Editor:Zhang Pengfei |Source: CCTV.com