Watch Video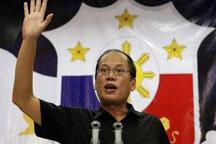 Play Video
Philippine president-elect Benigno Aquino III has announced his cabinet appointees ahead of his inauguration on June 30. Aquino's cabinet is a mix of old hands and fresh faces.
His appointments were seen as an indicator of policy priorities such as building transparency in government, reducing poverty and boosting investors' confidence to generate jobs.
Aquino's legal counsel Paquito Ochoa Jr. will serve as Executive Secretary. The country's Army chief and ex-Defense Attache to Washington DC, retired Lieutenant General Voltaire Gazmin, is Defense Secretary. Alberto Romulo is retained as the Foreign Affairs Secretary.
Cesar Purisima, one of Aquino's campaign donors, has been appointed Finance Secretary. He said his appointees were vetted by his close advisors and they shared his viewpoints on key issues.
Benigno Aquino, Philippine president-elect, said, "These are the people who I believe have committed to the philosophy that the problems of the country are solvable and not intractable. They have the energy and the commitment to sacrifice to do the necessary things that will effect the changes that the people are aspiring for."
Alberto Romulo, Foreign Affairs Secretary, said, "The president has been consistent in his belief in human rights, in the fight against corruption, in a good government. I think this is a president that I would be very very happy to work with."
Editor:Zhang Pengfei |Source: CCTV.com