Watch Video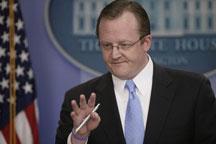 Play Video
The White House says the alleged Russian spy case will not affect their warming relationship with Moscow. The remarks came after the arrest of 11 people suspected of spying for Russia.
The US says it arrested 10 people allegedly involved in a Russian spy ring operating in the country on Monday. An 11th suspect was arrested in Cyprus Tuesday but was later released on bail.
US authorities have charged the 11 people with crimes including conspiracy to act as unlawful agents of Russia.
The timing of the arrests is notable, given the efforts by Barack Obama and Dmitry Medvedev to reset US-Russia relations. It comes on the heels of a meeting at the White House last Thursday.
Robert Gibbs, White House Spokesman, said, "No, look, I think that if you I do not believe that this will affect the reset of our relationship with Russia. We have made great progress in the past year and a half."
A court hearing was held on Tuesday. Most of the suspects are accused of using fake names and claims of US citizenship while really being Russian.
Prosecutors say intercepted messages show intelligence on US foreign policy, particularly toward Russia, appears to have been a top priority for the Russian agents.
Peter Earnest, Excutive Director, International Spy Museum, said, "It's almost as if they are collecting gossip, they are trying to meet people who are in think tanks, perhaps in government and talking about different things. "
The court papers also allege some of the suspects lived as husband and wife; used invisible ink, coded radio transmissions and encrypted data; and employed methods like swapping bags at a train station.
Another hearing is set for Thursday.
Editor:Zhang Pengfei |Source: CCTV.com