Watch Video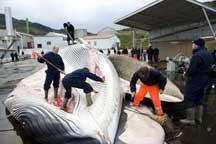 Play Video
The Icelandic whaling season has begun after talks at the International Whaling Commission broke down. The talks focused on replacing a moratorium on whaling with a controlled cull break down.
The moratorium was introduced 24 years ago to prevent a sharp decline in whale numbers.
Some environmental groups support the proposal, saying that if it is not possible to stop all whaling, at least it should be limited. But Japan, Norway and Iceland have caught thousands of whales since the 1980s, arguing they are not bound by a total ban despite international condemnation.
Iceland and Norway continue to be the only two nations in the world that officially authorize commercial whaling. Hunting has already brought some species of whales close to extinction.
Editor:Zhang Pengfei |Source: CCTV.com