Watch Video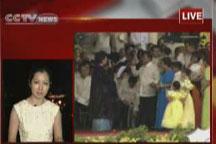 Play Video
Let's now cross to our Philippine correspondent Candace Giron [kandis hiron] in Manila, who's been following this story for us today. Hello, Candace.
Q1: What's the latest there?
Q2: With so much focus on Aquino taking the country's top political job, what about his predecessor President Gloria Macapagal Arroyo? What is her future?
Q3: Can you tell us what the atmosphere was like at Aquino's inauguration today? And how are his supporters celebrating tonight?
Related stories
Editor:Zheng Limin |Source: CCTV.com