Watch Video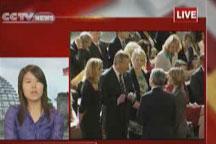 Play Video
For the latest on the German presidential election, we go to our reporter Tao Ying in Berlin.
1. Hello, Tao Ying. Who is most likely to win the presidential election?
2. You just mentioned Christian Wulff has the best chance to win. If he becomes the next German president, what influence will he have on German politics and foreign policies, such as relations with China?
Thanks, Tao Ying. That's our reporter in Berlin.
Editor:Zheng Limin |Source: CCTV.com