Watch Video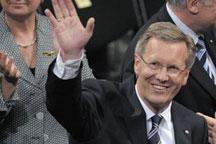 Play Video
German Chancellor Angela Merkel's candidate for president Christian Wulff won a third round of vote on Wednesday.
Merkel, who's eager to boost the strength of the ruling center-right coalition, praises Wulff as one who will represent the country in a wonderful way.
Chancellor Merkel's candidate Christian Wulff is a deputy leader of Merkel's conservative Christian Democrats. He beat Joachim Gauck, a non-partisan civil rights campaigner, in a special Federal Assembly session to choose the largely ceremonial post of head of state.
Wulff won 625 votes in the third ballot after failing to get an absolute majority in the first two secret ballots of the Federal Assembly.
Christian Wulff, Newly elected German President, said, "Esteemed Mr. President, I very happily accept the vote out of conviction and I am looking forward to taking on this responsible task."
Angela Merkel expressed confidence in the newly-elected President.
Angela Merkel, German Chancellor, said, "Ladies and gentlemen, an eventful day has ended and Christian Wulff is the president of the Federal Republic of Germany. This was our nomination, out of conviction, because we believe that he will represent this country as president in a wonderful way."
Merkel desperately needed a decisive victory in the federal assembly to boost her authority... after a series of poor showings in her opinion polls.
Her centre-right coalition has struggled to maintain power since taking office in October. The government has been hit by constant squabbling over policy, while the eurozone debt crisis forced it to push through an austerity drive and unpopular rescue packages for Germany's European partners.
Related stories
Editor:Zhang Pengfei |Source: CCTV.com