Watch Video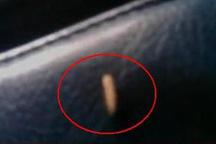 Play Video
A US Airways flight was forced to return to its gate in Atlanta, because maggots fell from a passenger's bag that was stowed in an overhead storage bin. Yuan Yani has more if you have stomach for it.
A passenger said she noticed a couple of flies on the Monday flight when she got to her seat, but didn't think much of it.
Then, as the plane was taxiing, she heard a passenger behind her causing a commotion and refusing to take her seat.
Barb Develli, US Airways Passenger, said, "I felt something on my knee."
"When I looked down it was a maggot, maggot, maggots."
"Very disgusting."
"I didn't even want to Get the hell off there. Get out of here."
The pilot announced that they were returning to the gate because of a "minor emergency on board". The flight attendants told everyone to sit down and be calm.
Desiree Harrell, US Airways Passenger, said, "I guess the bugs just began to fall out of the overhead compartment, and they tried to get us to sit there, but it was evident they were right behind us in our seat, so we were just asked to get up and walk to the back of the plane because I refused to sit back in the seat."
"Ah, very disgusting. Don't live with bugs anymore, ever."
Once the plane returned to the gate, the passengers were asked to get off, and a crew boarded to clean up the mess.
The flight eventually did continue on to its destination, but was taken out of service to be fumigated.
A passenger who brought spoiled meat on board was eventually blamed for the infestation.
Editor:Zhang Pengfei |Source: CCTV.com