Watch Video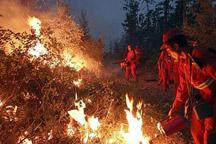 Play Video
Firefighters have put out the forest fire in China's Inner Mongolia Autonomous Region. But they are still struggling to extinguish ten blazes in Heilongjiang Province.
Most of the 23 fires are under control in a part of the Greater Hinggan Mountains. More than 14 thousand firefighters are tackling the fires backed up by six helicopters and hundreds of bulldozers. They have been helped by rainfall which has cooled the ashes.
But Heilongjiang still faces continuing high temperatures. Firefighters have to build fire barriers during the day, and battle the fires at night. Weather forecasters say dry weather is expected to return in the next couple of days, making blaze control efforts more difficult.
Editor:Yang Jie |Source: CCTV.com