Watch Video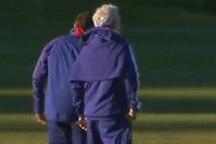 Play Video
The French parliament has begun a controversial investigation into the country's soccer team's World Cup fiasco. The health and sports minister Roselyne Bachelot says the players have tarnished the image of their country and shattered the dreams of supporters.
The players went on strike, refusing to take part in a training session ahead of the one of their group matches. But a FIFA official says soccer's governing body will suspend the French federation if politicians interfere in its business.
But the politician says they will probe the team's humiliating performance to discover what lessons can be learnt. France is not the only team facing wrath after returning home. The Nigerian president has also banned his country's team from playing internationally for two years and in the UK, a member of Parliament has called for an investigation into England's poor performance.
Editor:Yang Jie |Source: CCTV.com