Watch Video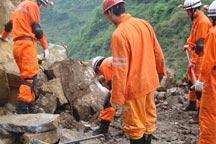 Play Video
The death toll from a rain-triggered landslide in southwest China's Guizhou Province has risen to 13 after rescuers recovered another two bodies.
Some 2,000 people and more than 20 heavy excavators continue the rescue operation.
But the chances of survival for the other 86 missing villagers are becoming increasingly slim, after being buried under mud for three days.
More bodies are expected to be found as rescuers comb the ruins.
The landslide struck 37 homes in Dazhai Village in Guanling County, at 2:30 p.m. Monday.
Provincial authorities have set up two temporary shelters, offering accommodation, food, water and medical care to 919 people, from 228 households.
As of Thursday, relief funds totaling 2.5 million yuan had been allocated from the provincial government. 30 tons of relief grain are in place from the county. Local government has also received donations totaling 1.7 million yuan.
Local authorities are looking for a safe and convenient site to build new homes for those who lost their homes.
Editor:Zhang Ning |Source: CCTV.com