Watch Video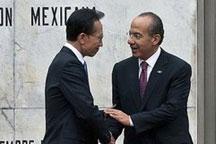 Play Video
Republic of Korea's President Lee Myung-Bak is continuing his tour of Latin America, meeting Mexican President Felipe Calderon at his official residence in Mexico City, as the two seek a free trade agreement between their countries. In statements to the press, both Presidents reaffirmed a commitment to increased bilateral trade and ROK's business development in Mexico.
Felipe Calderon, President of Mexico, said, Among other things, we discussed the necessity for a Nuclear Test Ban Treaty on the Korean Peninsula. To that end, we agreed to continue working with the UN Security Council and the International Atomic Energy Agency to guarantee the international goal of nuclear non-proliferation and the implementation of its resolutions. Mexico supports South Korea with respect to its sovereignty in the face of any external threats.
Lee Myung-Bak, President of ROK, said, Today, both countries signed various Memoranda of Understanding. We just signed a Memorandum of Understanding about cooperation on improving energy efficiency and to open a contract for a line of credit between both national banks. Ministers from both countries will sign various other Memoranda as well.
Related stories