Watch Video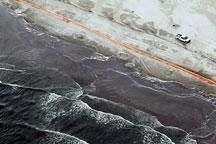 Play Video
Stormy weather caused by Hurricane Alex is slowing oil clean-up and containment efforts in the Gulf of Mexico. It's also pushing large patches of oil towards the Mississippi shore.
A massive ore and oil carrier converted into a "super skimmer" has arrived to assist with the cleanup.
Large patches of oil sludge are just off the coast of Mississippi.
Strong rains and wind are pushing them closer.
High winds and rough seas have delayed British energy giant BP's plans to expand the volume of oil it is siphoning from the well.
Thad Allen, Retired US Coast Guard Admiral, said, "Onshore and nearshore skimming and recovery operations have been significantly hampered by the weather. The small vessels that do the skimming have a difficult time operating out there. We had to pull them back."
About 500 skimmers were in operation before Hurricane Alex brought things to a halt.
At the peak, 650 were in operation.
More than 28 million gallons of oily water mix have been picked up during the two-and-a-half month spill.
And now joining the clean-up is a massive ship converted into a "super skimmer."
Related stories
Editor:Zhang Pengfei |Source: CNTV.CN