Watch Video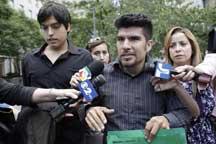 Play Video
Four accused Russian spies have attended a hearing in a courtroom in Manhattan, New York. The judge has granted bail to one, but denied it to three others.
Judge Ronald Ellis handed down his ruling after 90 minutes of arguments on Thursday.
He says Vicky Pelaez, a Spanish-language journalist who lives in New York, can be freed on bail of 250 thousand dollars plus house arrest as early next Tuesday.
Her lawyer, John Rodriguez. refused to reveal the key to the judge's decision.
John M. Rodriguez, Lawyer for Vicky Pelaez, said, "I can only say the following: we're grateful that the judge considered all the arguments on all sides and after careful and rather protracted deliberation period, he came out and made the decision allowing our client to go home."
Rodriguez also says the US attorney's office has asked for a two-day stay to determine whether to appeal.
A bail hearing was postponed for Juan Lazaro, Palaez's husband.
Prosecutors say Lazaro told investigators that Juan Lazaro is not his true name and that he passed letters to Russian intelligence.
They say Lazaro admitted his wife went to South America several times to pass intelligence to other agents.
But Judge Ellis says Pelaez doesn't appear to be a trained agent.
The judge also denied bail to another two suspects, the couple Richard and Cynthia Murphy, who lived in New Jersey.
Editor:Zhang Pengfei |Source: CCTV.com