Watch Video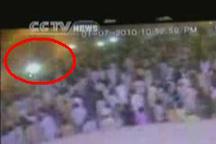 Play Video
And now to our top story, three suicide bombings have struck a Sufi shrine in Pakistan's eastern city of Lahore, killing at least 42 people and wounding more than 180.
Many have blamed militants linked to al Qaeda and Taliban for the attacks.
It was the second major attack in the city in a month.
The attackers struck when hundreds of devotees were worshiping. One of the attackers blew himself up at the gate of the sprawling shrine, while the two others exploded in the basement where people were washing for prayers.
On Friday security was tightened, while residents of Lahore began a day of mourning. Silence gripped the shrine and surrounding area.
Jamshed, Attack Survior, said, "There was chaos everywhere when this blast occurred Some people ran out of the gates, some ran towards the female portion of the shrine... I saw many dead bodies in a pool of blood in the courtyard."
Khalique Ahmed, Worshiper, said, "The incident which happened here is awful The Data Darbar shrine was the only place in Lahore which was safe from these terrorists. Now they attacked here, and this is not only a loss of human life, but also a loss for the whole country."
There was no immediate claim of responsibility, but many Pakistanis believe the attacks are linked to militants with connections to al Qaeda and the Taliban.
While most attacks have taken place in the northwest, militants have stepped up their strikes in the heartland of the country, mainly the central province of Punjab in recent months.
Editor:Zhang Pengfei |Source: CCTV.com