Watch Video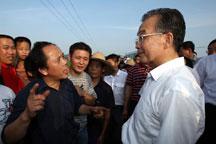 Play Video
Premier Wen Jiabao has visited Hunan Province to inspect the flood relief and prevention work.
The Premier first inspected the breached dam in Ningxiang County to check on the progress of repairs.
Wen told soldiers assigned to the task that flood prevention and production of food are both important. Hearing of an area threatened by sinking ground, he went Fuquan Primary School in Dachengqiao Town where a sink hole has developed in front of the building.
Premier Wen says the government would establish an expert team and transfer people from the threatened district to ensure their safety.
In the evening, the Premier held a meeting in Ningxiang County where he emphasized the strengthening of landslide and geological disaster prevention work.
Related stories