Watch Video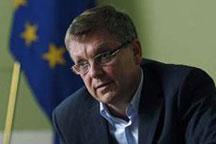 Play Video
Hungary is planning to ask the International Monetary Fund and the European Union for a "precautionary" two-year rescue package worth 10 to 20 billion euros as it continues to try to control its finances.
The country, has an existing IMF/EU rescue package worth nearly 20 billion euros, agreed to in October 2008 in an attempt to protect it from going bankrupt.
Its national debt is currently around 78.9 percent of GDP. The country's economy is not expected to grow significantly this year.
Under its current plan, Hungary is committed to keeping its annual budget deficit to 3.8 percent in 2010, and then below 3 percent in 2011. The country's economic minister now suggests that next year's target, may need to be relaxed.
Gyorgy Matolcsy, Economy Minister, said, "The deficit needs to be reduced in 2011 and also in 2012, but not necessarily below 3 percent [at a time] when Hungary undertakes very strong structural reforms and its environment, especially the European Union and euro zone struggle with a new crisis."
Editor:Zhang Pengfei |Source: CCTV.com