Watch Video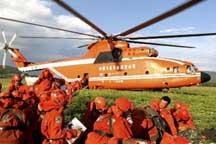 Play Video
More than 21,000 firefighters are battling forest fires triggered by lightning in northeast China. It's part of the final assault of their week-long efforts.
Firefighters have extinguished all forest fires in the Inner Mongolia Autonomous Region and secured control of blazes in neighboring Heilongjiang Province.
As of Friday morning, three major fires have been brought under control in the Greater Hinggan Mountains' Huzhong forest zone.
To prevent the blazes from spreading to a nearby reservation, authorities quickly sent 700 firefighters to the front site with helicopters.
Firefighters have worked tirelessly since arriving on the scene.
Zhao Guoqing, Officer, Fire Brigade, said, "After putting out the fire, we went back to our basement to rest. Then we got the order to fly to Feihu Mountain, to which we responded immediately."
Zhang Daoxin, Firefighter, said, "We have fought the fires for four days, day and night. I've slept less than four hours in four days."
Each of the rescuers, carrying about 25 kilograms of equipment on his back, could only carry four bottles of drinking water.
An even bigger problem has been the lack of water to put out the fires.
Another ongoing battle is to ensure crucial supplies reach the fire sites.
Civil affair, transport and health departments are working together to ensure food, water, equipment, and medical staff are flown to the scene.
The fire broke out in a part of the Greater Hinggan Mountains in Inner Mongolia Autonomous Region, before extending to neighboring Heilongjiang Province.
Blazes have engulfed more than 30 sites in the two regions.
Related stories