Watch Video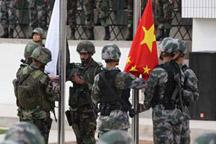 Play Video
China and Pakistan have kicked off a joint military exercise. It's aimed at fighting terrorism, for the third time since 2004. During this year's drill, the two armies will share "state of the art" anti-terror weaponry, and train together for a week to enhance coordination. Our reporter Wang Guan brings us this report from the Ningxia Hui Autonomous Region, where the training is taking place.
Old friends meeting new challenges.
China and Pakistan started their third anti-terror military exercise in 6 years. A serious commitment to eliminate a danger that threatens regional stability.
The exercise began with a display of anti-terror weapons from both sides. The Pakistani officers were intrigued by many of the items from the host, just as much as the Chinese generals are interested in the weapons from the guest.
Li Fuhua, Joint Exercise Training Director, said, "The joint exercise aims to trade experiences with the Pakistani army on fighting terrorism, to enhance the friendship between the two militaries, and improve capability in combating terrorist attacks."
For the Chinese, most of the weapons were domestically made. One of its advantages is they have the same standard. For example, the same bullet fit in a pistol, a gun, or a sniper rifle. In a combat situation, the same standard could mean more efficiency.
All the weapons from Pakistan were actually used in fighting back home. This captain told us this knife is used for climbing because, when dealing with terrorists in northern Pakistan's mountainous terrain, this comes in handy.
In the next few days, soldiers from the two countries will conduct simulated counter-terrorist missions such as hostage rescue and shooting. Chinese air force will also join the exercise as more and more terrorists are seeking refuge in mountains.
Wang Guan, CCTV Reporter, said, "Some of the Pakistani soldiers were at the forefront fighting terrorist forces. They are seasoned fighters."
Related stories
Editor:Yang Jie |Source: CCTV.com