Watch Video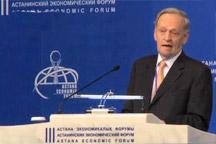 Play Video
About 2,000 business leaders and economists from 50 countries met in Astana, Kazakhstan. They're to identify exit strategies to the current global economic crisis. Though recovery is not yet around the corner, the Astana talks highlighted new ideas such as more South-South cooperation, the creation of a world currency or increasing investment from emerging countries.
The third Astana Economic Forum stressed the need to coordinate economic and environmental policies in the world, also the idea of creating a world currency, raised by host president Nursultan Nazarbayev, while vice-president of the Asian Development Bank warned that China cannot be the only locomotive of world economy.
China as well as Brazil, India or Turkey lubricate the world economy with their growing domestic markets and investments. That's the vision of the former prime minister of Canada, Jean Chretien.
And how about currencies? For Nobel-prize winner Robert Mundell, prosperity in a country like China relies more on developing internal demand.
Robert A. Mundell, Nobel Prize Wihner in Economics, said, "I think it's not a movement of the exchange rate, what they need to do is to move into more spending, increase pensions for the ageing, for example."
China's initiative to encourage development in its Western territories over the next decades is certainly a new path for growth for both Europe and Asia.
Kairat Kelimbetov, Chairman, Samruk-Kazyna, said, "We have these routes from the West of China to the West of Europe through the territory of Kazakhstan and Central Asian countries through Russia... Very promising trade routes. We hope these railways, these new roads will help in these terms very much."
Investment in infrastructure is like planting the seeds for future prosperity, but only debt-free countries can afford it. Asia is one example. It has come out of the crisis well ahead other regions, and has now the financial resources it needs to narrow the gap with high-income nations.
Ainash Chengelbayeva, Astana, Kazakhstan, said, "So from Astana no easy recipes to get out of the crisis, rather the conviction that they way to recovery goes through emerging countries. Business leaders and experts think that these countries are the only ones that produce both the economic growth and the financial liquidity the rest of the world badly needs. Ainash Chengelbayeva."
Editor:Yang Jie |Source: CCTV.com