Watch Video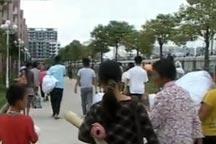 Play Video
Following heavy rainstorms, Changkai Dam in Fuzhou City, Jiangxi Province, was breached by a flood in June. Now, people affected by the disaster have returned home, preparing to start their new lives.
On June 21st, the Changkai Dam was breached. About 100,000 people affected by the floods were evacuated safely. After 13 days of fighting the flood the waters have begun to recede. Fuzhou City established 56 work groups and 13 expert teams to help get things back to normal. The teams disinfected the surrounding water and houses, as well as mended the road and turned the electricity on.
Jiang Ting, flood -affected people, said, "It's out of my expectation that the village has been cleaned. We can now live the same life as before."
Many Towns in Fuzhou City have been cleaned. Small shops both in towns and in villages have reopened for business. Villagers cleaned their furniture and prepared to start a new life.
In order to help the people to resume their life and get back to work as soon as possible, groups have set up a plan to help them. To ensure the rice can be planted on time, the local government sent the rice seeds to the farmers and water source problems have been solved.
Editor:Zhang Ning |Source: CCTV.com