Watch Video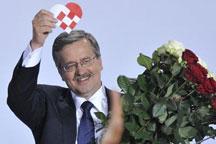 Play Video
We begin in Poland, where exit polls show acting President Bronislaw Komorowski has won the country's run-off election.
He narrowly edged out,opposition leader and late president's identical twin brother, Jaroslaw Kaczynski.
An exit poll by the T-N-S O-BOP institute showed Komorowski won 53.1 percent of the vote over Kaczynski's 46.9 percent.
A separate poll by Millward Brown put Komorowski with 51.1 percent and Kaczynski with 48.9 percent.
Exit polls have a small margin of error, and official results are not expected until Monday.
Komorowski was reluctant to claim victory, noting that the votes were still being counted. But he expressed optimism that he will be the next president.
Bronislaw Komorowski, Polish Presidential Candidate, said, "We can see here that we are close to a tie. So we have reason to be proud, and to be joyous, because indeed Polish democracy has prevailed. We see it in the high turn-out, in the enormous involvement of voters in this most important democratic process."
Surrounded by supporters, Kaczynski essentially conceded defeat by congratulating Komorowski.
Jaroslaw Kaczynski, Polish Presidental Candidate, said, "I have to start by doing what good manners require, which is congratulating the victor. I would like to congratulate Mr. Bronislaw Komorowski."
Turnout was relatively high at 56.2 percent, up from 54 percent in the first round, despite initial fears that hot summer weather might keep many Poles from voting.
If the exit poll results are upheld, Komorowski would be expected to smooth the way for the government to continue privatizing state-run companies and trim welfare benefits.
Komorowski has also pledged to adopt the euro in five years, withdraw troops from Afghanistan by 2012, and keep the Catholic church separate from the state.