Watch Video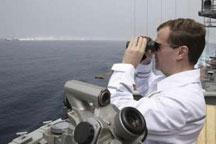 Play Video
Russian President Dmitry Medvedev has visited the country's Pacific Coast, where the 2010 Eastern War Games are in full swing. The exercise is scheduled to finish on Thursday.
Dmitry Medvedev went out to sea aboard missile cruise ship "Peter the Great," one of the world's largest naval vessels, on Sunday.
The President is calling on Russia's armed forces to guarantee the country's security in the Asia-Pacific Region, "in the face of existing challenges."
Dmitry Medvedev, Russian President, said, "These maneuvers prove our readiness to ensure Russian security in the Asia-Pacific Region. Several days ago, I chaired a meeting devoted to the issue of developing cooperation with countries in the Asia-Pacific Region. This is one dimension, and a very important one for us today, because it's a rapidly growing and developing area."
Exercises like the 2010 Eastern War Games are carried out in the region every two years, but observers say the scale of this summer's edition is truly spectacular.
A total of 20,000 troops 2,500 armored vehicles 70 military aircraft and 30 warships are practicing technical maneuvers, firing exercises, and simulated attacks in the sky.
Related stories