Watch Video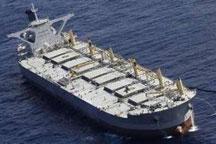 Play Video
BP's hoping, the world's largest oil skimming ship will increase the speed of its clean-up in the Gulf of Mexico. The ship arrived in the region and begun tests before embarking on the real work.
This is BP's newest hope in dealing with the United States worst oil spill disaster ever.
It's called "A Whale." A Taiwan ship that's 10 stories high and as long as three and a half football fields.
The ship's maker TMT Shipping company says the vessel can skim, collect and process up to 21 million gallons of oil-affected water a day.
The ship arrived in the Gulf on Wednesday, but officials wanted to test its capability first over a 65 square kilometer cruise.
Meanwhile, a small flotilla of oil skimmers are back at work after being stood down because of Hurricane Alex.
The US Coast Guard says it's stepping-up efforts with the clean-up.
Paul Zukunft, US Coast Guard, said, "We're going to more than double the number of skimmers in the next two-week period."
BP says it's working as quickly as it can, facing a looming threat of more hurricanes, as the season brings many uncertainties to its early-to-mid-August promise to cap the leak.
Local residents and business owners says the economic effects of the oil spill disaster will get worse before they get better.
Pam Thompson, Gulf Resident, said, "We're all worried. Everybody is losing their jobs around here. Tourism is our main source of income here and the ocean and the beaches, and they're soon going to be gone, because we're waiting right now for the oil to land on the shores over here."
BP says the drilling work is now a few days ahead of schedule with a second relief well being built as a backup to the first one.
BP says this coming days is "the best chance of stopping the leak."
Editor:Zhang Pengfei |Source: CCTV.com