Watch Video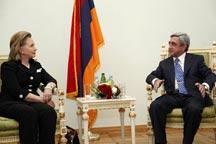 Play Video
US Secretary of State Hillary Clinton is seeking to revive peace talks between Armenia and Azerbaijan, amid rising tensions over the breakaway Nagorno-Karabakh region.
Visiting the two countries on the same day, Clinton delivered the identical message to both sides, that Washington places high priority on resolving the dispute.
Clinton said the US was encouraged by the willingness of both Armenia and Azerbaijan's presidents to negotiate a final peace settlement.
She said that before the two countries can move to final negotiations, they need to agree on a basic set of principles for settling the dispute, including a pledge not to use or threaten to use force.
Hillary Clinton, US Secretary of State, said, "There is a recognition on the part of both Armenia and Azerbaijan that any settlement must be based on the Helsinki principles. There have been many very serious consultations between both the president of Armenia and the president of Azerbaijan, most recently two weeks ago in Saint Petersburg with President Medvedev, and now we would hope to see real progress made on completing the basic principles to enable the drafting of a final peace settlement."
Editor:Zhang Pengfei |Source: CCTV.com