Watch Video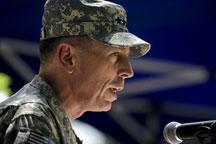 Play Video
US General David Petraeus has formally assumed command of the 130,000-strong international force in Afghanistan.
During a ceremony at NATO headquarters, the new leader declared "We are in this to win", despite rising casualties and growing skepticism about the nearly 9-year-old war.
General Petraeus received two flags at the ceremony. One for the US and the other for NATO. That marks his formal assumption of command.
The General says the war in Afghanistan has reached a critical stage and it is important to demonstrate to the Afghan people the NATO-led troops have the capability to stabilize the country.
Petraeus succeeded General Stanley McChrystal, who was fired last month for controversial remarks about high-ranking officials in the Obama administration.
But the new commander thinks highly of his predecessor.
Petraeus says the change in command does not signal a radical shift in McChrystal's strategy of making the protection of the Afghan people the focus of the military mission.
But he added he would review the rules under which NATO soldiers fight, including McChrystal's curbs on the use of airpower and heavy weapons.
Some analysts think the new General faces tough challenges, including curbing the rising violence, adopting effective counter-insurgency measures and dispersing doubts among some US allies about his own capability.
Editor:Zhang Pengfei |Source: CCTV.com