Watch Video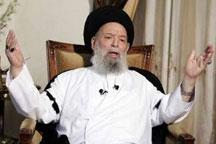 Play Video
Lebanon's Grand Ayatollah Sayyed Mohammed Hussein Fadlallah, one of Shi'ite Islam's highest religious authorities, has died at the age of 74.
Fadlallah had a wide following beyond Lebanon's Shi'ites, extending to Central Asia and the Gulf. He was a supporter of Iran's Islamic Revolution and the spiritual leader and mentor of the Shi'ite guerrilla group Hezbollah.
Fadlallah used many of his Friday prayer sermons to denounce U.S. policies in the Middle East, particularly its alliance with Israel.
Mohammed Hussein Fadlallah, Grand Ayatollah, said, "I don't think that there will be any military action by the United States or Israel against Iran because what the world is going through at the moment doesn't allow any military action against any country, and in addition to that, any war against Iran will ruin whole region."
Fadlallah was known in Shi'ite religious circles for his moderate social views, especially on women.
He issued a fatwa against honor killings and said women who are abused by their husbands could hit their husbands in self-defense.
He distanced himself from hostage-taking by Islamic militant groups of Westerners in Lebanon during the 1980s, saying he was against kidnappings and repeatedly called for their release.
Fadlallah founded several religious schools and the Mabarrat Association, a center that provided social and medical services for the poor and built orphanages.
He is also a prolific writer, authoring more than 40 books on Islam, politics and women, as well as many poems.
Fadlallah was born in the Iraqi city of Najaf in 1935 where he studied religious sciences. He also studied jurisprudence, logic, Arabic and philosophy before moving back to Lebanon in 1966. He was once a classmate of Iranian Supreme Leader Ayatollah Ali Khamenei.
Editor:Zhang Pengfei |Source: CCTV.com