Watch Video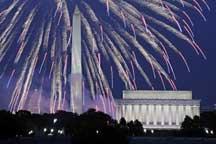 Play Video
Americans have celebrated their nation's 234th Independence Day, with parades and fireworks all over the country.
Elaborate fireworks lit up the skies in Washington, New York and other US cities on Sunday night, as the nation celebrated its 234th birthday.
In the nation's capital, crowds gathered at the National Mall and were treated to 17 minutes of fireworks, shot off behind the Washington Monument.
U.S. President Barack Obama celebrated the holiday by hosting members of the military and their families for a barbecue, a concert and a view of fireworks on the South Lawn of the White House.
Barack Obama, U.S. President, said, "On this day that is uniquely American, we are reminded that our declaration, our example, made us a beacon to the world. Not only inspiring people to demand their own freedom, from Latin America to Africa,
from Europe to Asia, but even now in this time, these ideals still light the world."
Throughout the country, Americans attended barbecues, parades and other events as they observed Independence Day.
The holiday commemorates the occasion in 1776 when the 13 original colonies declared independence from Britain during the American Revolutionary War.
Related stories