Watch Video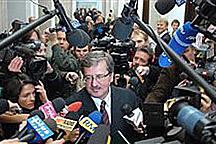 Play Video
For more on the Polish presidential election, we are joined on the phone with correspondent Magda Belka in Warsaw.
Hello, Miss Belka....
Q1. Moderate conservative Bronislaw Komorowski's narrow victory only needs to be confirmed by a final count. What does his victory mean to Poland?
Q2:What are Polish people's expectations of Bronislaw Komorowski?
Q3:In terms of diplomatic ties, What will Komorowski's win mean for the country's relationships throughout Europe?
Editor:Yang Jie |Source: CCTV.com