Watch Video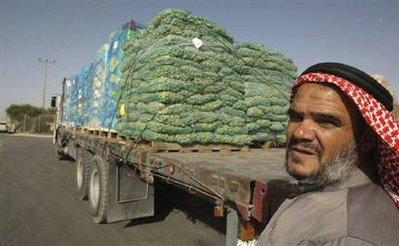 Play Video
Israeli Defence Minister, Ehud Barak met with Palestinian Prime Minister Salam Fayyad in Jerusalem, to discuss details of easing the blockade on Gaza. The meeting came as Israel, revised a list of banned imports to Gaza, allowing for more consumer goods to enter the region.
The two ministers' meeting was the first at such a level since indirect peace talks got underway between the two sides two months ago.
The Palestinian prime minister says he has pressed demands including a halt to Israeli army incursions in the West Bank, and the opening of wider areas on the West Bank for the Palestinian forces to operate.
The main point of discussions: the Israeli blockade on Gaza.
Salam Fayyad, Palestinian Prime Minister, said, "We definitely stress the need for the effort to ease and as matter of fact lift the siege, to move speedily."
On Monday, Israel revised regulations to allow more civilian goods to reach the 1.5 million Gaza residents.
But Israel will retain tight restrictions on what it calls dual-use products including construction materials from entering the territory.
Construction materials like steel would be allowed to enter only under Israeli supervision for use in projects overseen by international bodies.
Yossi Gal, Director General, Israeli Foreign Ministry, said, "There were a number of elements there: the first was to publish a list of elements not permitted into Gaza, a list that is limited to weapons, war materials and dual use items, saying that all other items not included in the list will be permitted to enter into Gaza."
Israel has been under intense international pressure to loosen its three-year embargo on Gaza since Israeli commandos killed nine Turkish activists in a May raid on an aid flotilla bound for Gaza.
The latest Israeli move seems encouraging, but it remains unclear how much the order will help Gaza rebuild the damage caused by Israel's three-week military offensive in the winter of 2008-2009.
The operation, launched to stop Hamas rocket attacks, destroyed thousands of homes, buildings and public infrastructure.
Related stories