Watch Video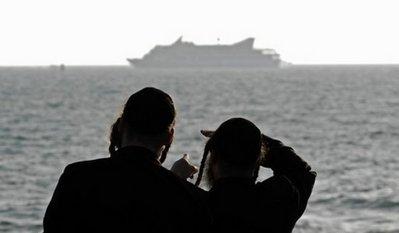 Play Video
Israel says, it WON'T apologize to Turkey for the raid on a Turkish aid flotilla bound for Gaza in April. The Israeli Foreign Ministry, says Turkey shouldn't demand an apology by issuing an ultimatum of severing all ties with the Jewish state.
The response, came after Turkey's Foreign Minister was quoted as saying Ankara would cut ALL ties with Israel unless it apologizes or accepts an international inquiry into the matter. The minister, was also quoted as saying that Turkey would ban ALL Israeli planes, including those of civilian use, from passing through its airspace.
Later, a Turkish Official said the Minister's words were misrepresented. The official says Ankara's position is this -- that it would be VERY difficult or impossible... to repair bilateral ties unless previous stated demands were met. Turkey stated several times that it wants Israel to apologize over the raid, pay compensation, agree to a UN inquiry, and also lift the blockade on Gaza.
Related stories
Editor:Zhang Jingya |Source: CCTV.com