Watch Video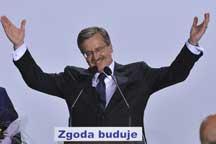 Play Video
Poland's electoral commission has officially declared Bronislaw Komorowski the country's new president. Komorowski's, willingness to work with the cabinet has pleased the ears of a public that's been fed up with the policy struggle between presidents and premiers since the country changed its political system in the late 1980's.
The electoral commission says Komorowski of the ruling Civic Platform won 53 percent of the vote. He beat his rival Jaroslaw Kaczynski,who won 46 percent of the votes. The loser was the twin brother of deceased ex-president Lech Kaczynski.
Komorowski is pledging to work closely with the government led by Prime minister Donald Tusk, also from the ruling Civic Platform. He says he will support the government's programs which aim to address the challenges the country is facing.
The pro-business Civic Platform can now govern without the obstacle of a hostile head of state.
Hanna Gronkiwicz-Waltz, leader, Civic Platform Party, said, "With the all constitutional competencies, with the autonomy of the president, there will be cooperation, friendliness and common discussion at this important time for Poland...because I agree with Bronislaw Komorowski."
In Poland, the government sets policies, and the president can propose and veto laws.
Analysts say Komorowski's victory would help curb the internal power struggle and bridge the presidency and the premiership on one hand and uniform diplomatic polices on the other.
But the narrowness of his victory cast doubt on the government's ability to carry out unpopular reforms ahead of a 2011 parliamentary election.
It faces a series of challenges including an elevated budget deficit, high public debt, and an inefficient pension system.
Pension changes could hit farmers, miners and teachers most.
Any painful changes could hurt the Prime Minister in the parliamentary election next year.
Related stories