Watch Video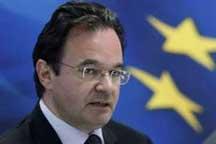 Play Video
The Greek Finance Minister says the country's on the right path to fiscal recovery. He also says he's confident Greece will meet its target of cutting its budget deficit by 40 percent, to 8.1 percent of GDP this year.
George Papaconstantinou, Greek Finance Minister, said, "We are cautiously optimistic that despite the fact that the implementation of this program will take years, we are on the right path. The first results are already showing, and this sends a very important message to the Greek public, the Greek market, investors and businesses. It also sends good signals to the international markets, where we are looking forward to returning for funding the public debt, in 2011."
Speaking of the country's aim to increase revenues by around 12 percent this year, the finance minister said the government will fall slightly below its target. Officials from the EU, I-M-F, and E-C-B will be in Greece between the 20th and 26th of July, to conclude an initial review of the country's austerity plan. Papa-constantinou, said the government has no plans for new austerity measures,... rejecting Greek media speculation, that the country... would be forced into further belt-tightening by international lenders.
Related stories
Editor:Zhang Jingya |Source: CCTV.com