Watch Video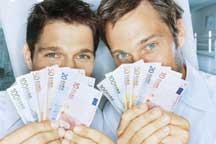 Play Video
Just as much of Europe is cutting back spending due to exploding deficits, the World Bank - a global institution that serves the world's poorest, is increasing its pay for employees.
IT came -- Just a few days after the end of the Group of 20 Summit in Toronto adn these words from US President Barack Obama summing up the budget belt-tightening going on around the globe.
Barack Obama, U.S. President, said, "We have pledged to cut our deficits in half by 2013, just as Europe is making difficult decisions."
The World Bank Board of Directors - Voting to raise overall pay for employees by 3.7 percent -- easily out-pacing cost of living increases in the US. several board members abstained from the vote, including the U-S and European representatives.
Jo Marie Griesgraber, New Rules for Global Finance Goalition, said, 'To think that these people are getting a pay increase that's above the inflation rate when there are so many more poor people because of the financial crisis."
But Jacob Kirkegaard, of the Peterson Institute for International Economics, says World Bank salaries are like many public sector salaries around the world. They are based on a rigid formula that doesn't depend on market whims.
Kirkegaard said, "Now they're getting back what they didn't get during the boom years and so it's not a surprise but it clearly poses a political problem for the donor countries at the world bank. "
Jessica Stone, Washington, US, said, "World Bank officials say these raises are below what other multi-national institutions pay, and it hasn't affected their lending. Some 72 billion dollars this year to countries hit hard by the economic cirsis."
In a statement, a World Bank Human Resources Executive told CCTV: "Our board representing 187 countries approved this, recognizing record work by staff on behalf of clients during the crisis, and it is well below other multilateral institutions and several of our major shareholder governments."
But in politics, timing is everything. The raise comes just one day after the British passed and austerity budget...and in the wake of unprecedented moves by the europeans to cut spending.
German Chancellor Angela Merkel plans to cut the deficit by more than 12 billion dollars. The French have raised the retirement age...and the spanish have cut employer costs, making it easier to lay off workers.
A spokesperson for the British Department of Internatonal Development tells CCTV: "When governments worldwide are cutting public spending, increasing taxes, and reducing or freezing public-sector pay, to award an above-inflation pay rise risks making the bank appear out of touch."
As for the World Bank, under its pay formula, it could have offered raises as high as 4.3 percent, but settled on 3.7 as a nod towards the times...Times. Kirkegaard says will include budget consolidations as far as the eye can see.
Editor:Zhang Jingya |Source: CCTV.com