Watch Video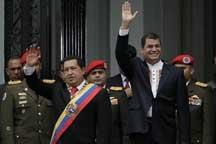 Play Video
Venezuela has celebrated its independence day by commemorating the life of a woman... who helped Simon Bolivar... liberate several South American nations from Spanish colonial rule. Revelers, placed her symbolic remains... alongside the tomb of her longtime partner on Monday.
Manuela Saenz died during an 1856 diphtheria epidemic. The government of President Hugo Chavez, is now redressing her reputation, as one of the continent's greatest heroines. Chavez, and his Ecuadorian counterpart, Rafael Correa, placed earth gathered from her grave site, next to Bolivar's tomb in the National Pantheon as crowds lined the surrounding streets.
Saenz, the daughter of a Spanish aristocrat, was born in Ecuador in 1797. She distributed support materials for the independence movement, and later became a highly decorated army colonel. Saenz, accompanied Bolivar, during his military campaigns across the Andes, and lived with him until his death in 1830.