Watch Video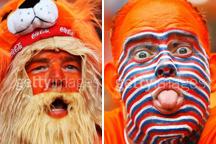 Play Video
The first World Cup semi-final between the Netherlands and Uruguay will kick off on Tuesday evening local time at South Africa's Cape Town Stadium. Uruguay fans are hoping their team can repeat the success of the first ever World Cup when they were crowned champions in 1930.
Dutch fans hope their team will walk away with an eighth World Cup championship. Let's now hear the hopes and expectations of some fans.
Ignacio Young, Uruguay Fan, said, "We got here, I guess we arrived about 6 in the morning with the hopes of seeing the team taking the cup home."
Hector Del Campo, Uruguay Fan, said, "It's a good team. During the last game they showed they are a valiant team and can win games at any moment. And above all, with the support of the people, we can try to take another World Cup trophy back to Uruguay."
Truus Ruwiel, Dutch Fan, said, "Well I hope when the final comes around that we get to win. It will be fantastic if we win, yes"
Ferdi Fievez, Dutch Fan, said, "I hope that we win 3-nil. And I think it will put us in the position to move on to the final"
Related stories
Editor:Du Xiaodan |Source: CCTV.com