Watch Video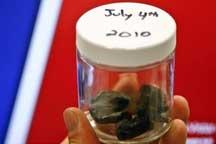 Play Video
Tar balls have been found on a Texas beach. They're the first evidence that gushing crude from the Deepwater Horizon well has reached all the US states along the Gulf of Mexico. The Coast Guard says tar balls are not unusual, but they still provoked the quick dispatch of crews and a vow that BP would pay for clean-up efforts. Wan Chunning has more.
The amount discovered is tiny compared to what has coated beaches in the hardest-hit parts of the Gulf Coast in Louisiana, Mississippi, Alabama and the Florida Panhandle.
Joe Jaworski, Galveston Mayor, said, "Clearly I'm alarmed at the revelation that some tar balls have been positively identified as from Deepwater Horizon, not a good thing. But I keep in mind two things. One, it's a very small amount of oil, so that is inconsistent with the thought that our time has come and the oil has finally hit our shores."
The discovery of tar balls has yet to drive off all the tourists in the Florida Panhandle on Monday.
Tourist said, "We were really relieved. All you hear is bad things, and we thought we'd come and see something disgusting, but luckily it wasn't too bad."