Watch Video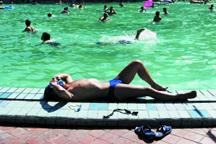 Play Video
A searing heat wave continues to scorch many parts of China. Beijing on Monday recorded its highest temperature for the first ten days of July in five decades. It is forecast that another 11 regions of the country will also endure the extreme hot weather in the next few days.
The Chinese capital reported a peak of more than 40 degrees Celsius on Monday.
Local authorities have once again issued an orange, or second highest, alert.
Taxi Driver said ,"The weather is much hotter, and I turned up the air conditioning in my car. The sunshine is quite strong, and my arms are burnt."
It is forecast that today's temperature in Beijing will again reach more than 39 degrees Celsius.
In Tianjin,an industrial city in north China, the temperature there also reached 37 degrees. The local meteorological department has upgraded the level of alert from yellow to orange.