Watch Video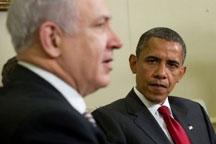 Play Video
US President, Barack Obama and Israeli Prime Minister, Benjamin Netanyahu sought to warm rocky relations. After a White House meeting, the two leaders declared that any talk of a rift between them was unfounded.
It was a warmer welcome than his March visit, when the White House kept Netanyahu out of sight, because of Israeli plans for new construction in east Jerusalem during a visit from the US Vice President.
Obama described the US-Israeli bond as "unbreakable". He praised his guest for Israel's recent decision to ease its three-year blockade of the Palestinian-controlled Gaza Strip.
Barack Obama, US President, said, "The bond between the United States and Israel is unbreakable. It encompasses our national security interests, our strategic interests, but most importantly the bond of two democracies who share a common set of values, and whose people have grown closer and closer as time goes on."
Obama also says he believes Netanyahu wants peace with the Palestinians and expects to resume direct Middle East peace talks in September.
Netanyahu echoed Obama's thoughts, pledging Israel's commitment to peace with the Palestinians.
Benjamin Netanyahu, Israeli Prime Minister, said, "We discussed a great deal about activating, moving forward the quest for peace between Israel and the Palestinians. We're committed to that peace, I'm committed to that peace. And this peace I think will better the lives of Israelis, of Palestinians, and it certainly would change our region."
Obama and Netanyahu also discussed efforts to end Iran's nuclear weapons pursuit, including the new sanctions Obama signed into law last week.
Tuesday's meeting was the fifth between Obama and Netanyahu. It follows meetings Obama held in recent weeks with major Mideast players, including Palestinian President Mahmoud Abbas and King Abdullah of Saudi Arabia.
Related stories
Editor:Zhang Pengfei |Source: CNTV.CN