Watch Video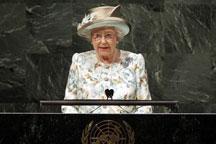 Play Video
Britain's Queen Elizabeth the second, says that "the achievements of the United Nations are remarkable." The queen arrived in New York only for a five-hour visit which comes at the end of her nine-day tour in Canada.
The Queen and her husband, Prince Philip, visited the UN Headquarters Tuesday. The two were greeted by UN Secretary-General Ban Ki-moon and President of the General Assembly Ali Treki.
The 84-year-old British monarch made the glowing statement about the organization in addressing the UN General Assembly for the second time in her reign.
She made her first speech in 1957,at the age of 31 when the UN was all of 12 years old, and she was a mere four years into her long reign as queen.
Related stories